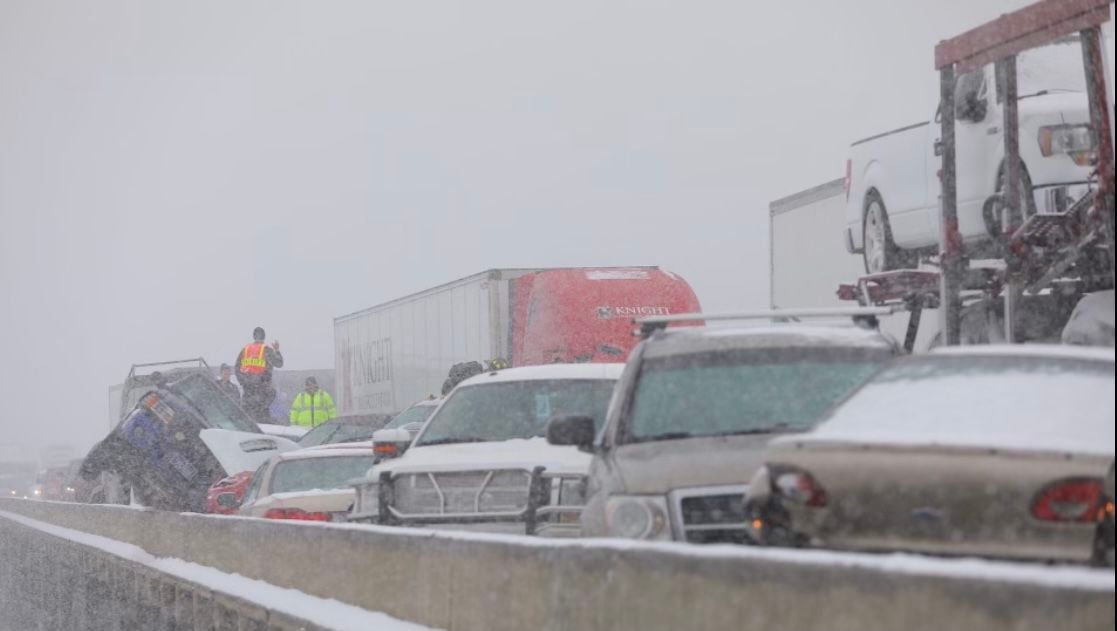 Traffic on Interstate 90 in both directions just east of Billings was halted Saturday just before noon by a multi-vehicle pileup.
The pileup involved 30 or more vehicles, including semi-trucks, on the bridge crossing the Yellowstone River near mile marker 452. The wreck occurred in the westbound lane, with damaged cars, trucks and SUVS spanning almost half of the bridge. 
Traffic was backed up for several miles in both directions. The South 27th Street entrance onto I-90 West has been closed while crews clear the bridge of wrecked vehicles. 
A Billings city bus was sent to the scene to transport several travelers whose vehicles were too to drive, or were pinned by other crashed vehicles. The bus took them to MetraPark. 
One of those travelers, Bella Contreraz, was on her way to her job in Billings when she was crossing the bridge. She said she slammed on her brakes when she saw vehicles stopped ahead of her. Another oncoming semi truck struck her vehicle, and left her pinned to the side of the bridge. Another driver, she said, helped her escape by prying open her door.
"It was like bumper cars," she said. 
At least two people were taken to the hospital, both of whom first responders found under the bridge. 
The Billings and Lockwood fire departments, American Medical Response, the Yellowstone County Sheriff's Office and the Montana Highway Patrol were among the agencies who arrived at the wreck.