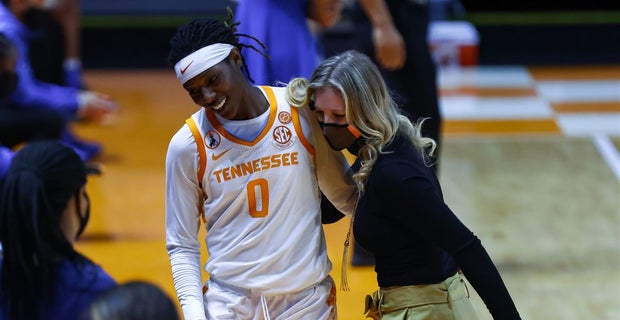 Lady Vols Coach Kellie Harper and senior Rennia Davis met with the media Saturday – one day before Tennessee and Middle Tennessee will square off in Texas to start the NCAA tourney – and covered the court from the equality issues that emerged this week to keys to securing a win on Sunday.
No. 3 seed Tennessee, 16-7, will meet No. 14 seed Middle Tennessee, 17-7, in the River Walk Region in a game set for tipoff at 2 p.m. Sunday (TV: ABC) at the Frank Erwin Center in Austin, Texas. It will be the first time that first round games in NCAA women's college basketball have aired on ABC since 1995 despite the fact Disney merged with ABC and the majority of its ESPN properties in 1996.
The winner of Sunday's game will face the winner of No. 6 seed Michigan, 14-5, and No. 11 seed Florida Gulf Coast, 25-2, which play at 3 p.m. Eastern on Sunday at the University of Texas at San Antonio Convocation Center. The second round game is set for Tuesday with tip time, TV information and location to be determined.
Such is the nature of an NCAA tourney amid a pandemic when 64 teams are both scattered and isolated in hotels across the San Antonio area and assigned to various practice locations.
Tennessee is staying in San Antonio and took a bus about 90 minutes away to Austin for a practice session Friday after getting off a practice court set up in San Antonio at 9 p.m. Thursday. Tennessee Coach Kellie Harper shared with her team that night that breakfast pickup time was 6:15 a.m.
History-maker. @KellieHarper #ncaaW pic.twitter.com/AiTSphj7xR


— Lady Vol Basketball (@LadyVol_Hoops) March 20, 2021
"The practice times have been a bit all over the map, in terms of what times they have been," Tennessee Coach Kellie Harper said. "You might have an early one, and you have a practice, then a COVID test. With the COVID test, you're allowing an hour-and-a-half to two hours from door to door to get that finished and finalized. So, that has taken up quite a bit of time.
"Once we were out of quarantine, we were able to move into a meeting space, where we can kind of watch film, the players can come do treatment and they can have study halls. Meals have been, basically for the most part, delivered, so they come in boxes and you're having meals in your room by yourself."
Despite all of it, the players and staff have adapted well.
"Logistically, things haven't been the easiest, but we've handled it," Harper said. "I hope that's enabled them to focus on the task at hand and not worrying about things they literally have no control over. Let's just go ahead and focus on why we're here."
The next time the Lady Vols step on the court in Austin will be about 30 minutes before Sunday afternoon's tipoff. The last basketball game for Tennessee was on March 6 in the semifinals of the SEC tourney in Greenville, South Carolina.
"This game feels like it is a long time coming," Harper said. "We've been off for a long time and have been down here in San Antonio for a few days now. So, we are excited to be getting closer to game day and game time, and our team is looking forward to it.
"We've got a tough opponent that knows how to win, and they'll be very disciplined and have a game plan that they'll come out and execute. So, we have to be locked in. You don't just walk out here and win. You have to walk out and be a really good basketball team to continue to dance."
Sophomore Jordan Horston spotted caution signs in Saturday's practice setup – which became a theme this season to watch out for the Lady Vols and, on the flip side, for the team to be careful and prepare for opponents.
Starting to feel like home here in San Antonio … ??#ncaaW pic.twitter.com/E3B2GXwzDy


— Lady Vol Basketball (@LadyVol_Hoops) March 20, 2021
The storyline to start the tourney – as outlined HERE and HERE – became the equality issues in weight training, food, swag and COVID-19 testing between the NCAA's events for the women as compared to the men.
Sally Jenkins, the late Pat Summitt's biographer and longtime sportswriter, wrote this column for the Washington Post that started out: I'm tired. Not from today or from yesterday but from 40 years of it. Forty years tired of writing the same damn story about the same NCAA shortchangers in suits who would begrudge women's athletes so much as an equal amount of air in a tire if they thought it might come at a man's expense. Sick and tired of the chiseling administrators with their million-dollar salaries and monstrous heaps of revenue who act like women's basketball players should be thankful for a uniform that isn't funded by a bake sale.
The NCAA held meetings – and a press conference that is available at the end of this article – and promised to rectify matters. Weight training areas popped up by Saturday morning.
"I think there is a lot there," Harper said. "On the way down, we didn't know what it would look like. We talked to the team about handling whatever it is. It's not going to look normal, and we knew it wouldn't look normal. It's not been perfect. There have been some things, obviously, that we would like to change, but our players have really handled everything well. They have moved from event to event very well, they've been flexible, and for us, we're handling things.
"It is disappointing when you see the pictures and you see the discrepancies between the two tournaments. I think it's really disappointing. But when you're around our team here, they've been grateful. They have been wonderful to deal with, and I think they are just excited to play basketball."
Davis added, "The simplest way I could put it is just disappointed. Like Kellie said, the large disparities between the women's and men's setup. Obviously, there were a lot of complaints on social media, so some things have been getting changed and worked out now.
"We still have a game to play, and that's important for us to know. We were disappointed, but we've got to focus on the game regardless."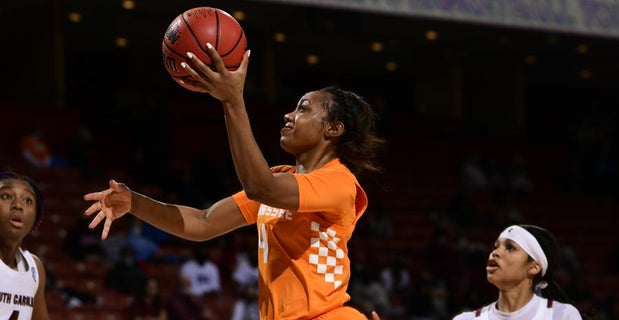 Middle Tennessee is led by Anastasia Hayes, who played at Tennessee for one season, and leads the Lady Raiders at 26.5 points per game. Middle Tennessee, the automatic qualifier after winning the C-USA tourney, also has her sister, Aislynn Hayes, who averages 14 points.
It will be the fourth time this season that Tennessee faces a former Lady Vol on the court. The previous three were Evina Westbrook (UConn), Jazmine Massengill (Kentucky) and Zaay Green (Texas A&M).
"Annie Hayes is a terrific and dynamic scorer for them," Harper said. "She does a great job of getting herself to the basket and getting to the free throw line. Their system is set up for her to do that, because they're putting four shooters behind the three-point line and are going to spread you out basically saying pick what you want to do. Do you want to help on to her and she'll kick to threes or do you want to let her go one-on-one? That's where they present a challenge to anybody that they're playing. You've got to decide how you're going to guard."
Middle Tennessee has attempted 726 threes this season and connected on 30.6 percent as a team. Anastasia Hayes has taken 102 and her sister, Aislynn Hayes, 140. Deja Hayes, a transfer guard from Ole Miss, leads the team at 169 trey attempts, and Courtney Whitson, a forward, has lofted 148 from long range. A fifth starter, guard Alexis Whittington, has taken 123 threes.
"We're not going to change anything," Middle Tennessee Coach Rick Insell said. "We'll be shooting the three, we'll be feeding our posts inside and hoping that we can score and maybe get fouled."
By comparison, the Lady Vols have attempted 340 threes and connected at 31.8 percent. The closest to triple digit attempts is 92 by forward Rae Burrell, who has connected on 41.3 percent with 38 makes.
"Limiting threes is the biggest thing I've seen on film," Davis said. "To put it in perspective, one of our coaches said that they shoot six more (per game) than Arkansas, who we've played against, and they shoot a lot of threes. That's going to be a big thing for us, guarding the three, making them put the ball on the floor, and also use our size on the offensive end."
The Lady Vols can counter with a significant size advantage and a focus on scoring inside that involves the post and perimeter players.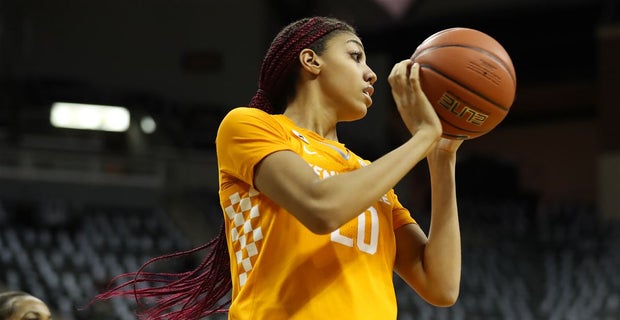 "How our guards play really sets the tone for the game, because offensively the guards are going to determine the pace for the game," Harper said. "Even if we're getting a lot of post touches, a lot of times it's going through our perimeter players to get them those post touches."
Defensively, the Tennessee guards need to hold their own on one-on-one defense.
"If our guards can guard without a lot of help, it's going to shut down driving lanes for them; therefore no driving lanes equals no penetrate and kick to shooters," Harper said.
Offensively, Davis can connect from the arc, but the 6-2 forward also can use her size to score in the paint.
"I want to attack the basket, get to the free throw line and create easier opportunities for my teammates, especially in the post," Davis said. "I know we have an advantage in size, so I just want to drive when the defense collapses and get some easy assists. I'm going to do whatever my team needs me to do and not settle for the three."
The Lady Vols also have dominated the glass for the most part this season, especially on the offensive end. A missed shot by Tennessee can become another offensive opportunity.
"Well, the good thing is, we're not going into this game saying, 'Oh, let's get the offensive boards, we haven't done that this year, so let's try that,' " Harper said. "We're going in to do what we've done all year long, and I think that's important."
Tourney time!

The Lady Vols start their run tomorrow afternoon against Middle Tennessee.https://t.co/9UhbyBOTHh


— Lady Vol Basketball (@LadyVol_Hoops) March 20, 2021
It's that aspect of Tennessee's game that is of concern for Middle Tennessee Coach Rick Insell.
"Their offensive rebounding is what bothers me," Insell said during Middle Tennessee's media presser on Thursday. "We've all got to go to the boards. We can't be standing and watching. I don't know that it does any good to box them out because they're so tall and so strong, they can walk you right in under the net. We're going to have to get aggressive on the boards. When I lay down tonight, I'll be thinking about this offensive rebounding, I can promise you that."
When Harper was asked Saturday about Insell – who she played against when he coached at Shelbyville High School and played for on the AAU travel circuit in Tennessee – being concerned about offensive boards, she smiled.
"A hundred percent, I think I could've answered that question for him," Harper said. "I would've known that's what he would say, just because of size and stats to be honest with you. But they'll be disciplined, they will box out, and we will have to be really good on the boards to be able to continue to outrebound our opponents."
To get the overall outcome it wants, Harper said Tennessee must follow the scouting report on defense and value each possession on offense.
"We've got to understand their personnel," Harper said. "And we've got to guard without fouling. Valuing the possession means taking care of the basketball, not turning it over, but it also means taking great shots, finding those great shots and working for those great shots."
Davis, unlike her teammates, wasn't stuck in COVID-19 testing late Friday afternoon, so she was able to watch the Vols' NCAA tourney game in her hotel room and witnessed the loss to Oregon State. The senior forward mentioned she was still in the 90-day window, an indication that the time she missed in February was because of COVID-19.
"To me that just made it that much more real," Davis said. "At any point in time, it could be over. It made it that much more real to see our boys lose, and I was super sad and disappointed and hurt for them.
"You have to be the better team that day. I think that's what it's important. That's why I keep relaying to my teammates. As long as we're the better team for that game, that's what matters. It doesn't have to be the prettiest win. It doesn't have to be a blowout. As long as we've up by one when the clock goes off, that's what matters."
Coach Kellie Harper
Rennia Davis
NCAA Press Conference