On the upcoming cabinet reshuffle following former finance minister Mathias Cormann leaving parliament, the health minister, Greg Hunt has said he expects to stay in his current portfolio, AAP reports:
"My expectation is I will be remaining in the same role – that is what I would want to do and the prime minister has indicated the same thing," he told reporters in Melbourne on Monday.
"This pandemic is not over and there is important work to do. His belief and my belief is continuity in health at this time is fundamental for confidence."
Asked whether the reshuffle was timed to ensure Australians were focused on things other than politics, Mr Hunt said it was more about parliament finishing for the year and MYEFO being the main focus this week.
"Once that is done the prime minister will be able to focus on the last part of the puzzle before Christmas."
Liberal frontbencher Simon Birmingham took on Senator Cormann's finance and government Senate manager role, in addition to his trade portfolio.
It's widely expected he will hold onto the finance role, but a new trade minister will be appointed.
Nationals frontbencher David Littleproud said the trade portfolio was a "natural fit" for a Nationals member.
"I think the National Party has had a very long history with trade and obviously we represent regional and rural Australia," he told the ABC.
"Those are discussions the DPM and the PM are having now, with a new trade minister being announced within the next week."
On my earlier post about the issues reaching non-English speaking households, associate professor Julian Rait, the president of the Australian Victorian Medical Association, tells ABC TV that GPs should be brought into the contact tracing process.
He said:
[GPs are] more trusted than government in many – particularly culturally diverse communities that may not have English as their first language.

They may derive from countries where government is mistrusted and as a consequence they look to their local medical professionals to provide reassurance and knowledge about health. And I think in that situation that contact tracing would have been very much enhanced if GPs were engaged, particularly in these culturally and linguistically diverse communities, which were unfortunately very much a focus of some of our infection clusters.
Hunt said the AMA was surprised the Victorian health department had been so defensive in admitting its mistakes.
The problem with the health department in Victoria is it had a completely different approach to things where it tried to hide mistakes, obfuscate and tried to carry on without change. And I'm very pleased that there has been an awareness now that that particular type of culture is flawed and having a learning culture – one that is more attuned to community safety and improvement – is a better way to go. And I hope that now the department is being split in two and that there is new leadership, that we will see the desired change.
Updated

'No red flags' on Covid vaccines, health minister says
Health minister Greg Hunt has indicated Australians could start being vaccinated against Covid-19 by March.
AAP reports Hunt expects to have early assessment of two leading vaccines – one from Pfizer and the other from AstraZeneca – by the end of January.
Australian regulators will then be asked to give the drugs the tick of approval, putting the national rollout on track to begin in March.
Hunt spoke to the global chief executive of AstraZeneca at the weekend.
The company is working to finalise issues, including the size of the first vaccine dose and the time before the follow-up shot.
Hunt told reporters in Melbourne on Monday:
There are no red flags at this stage. There are only green lights.
Updated

Police have blitzed more than 1,000 pubs and other licensed venues in regional NSW to check they are complying with Covid-safety rules and crack down on alcohol-related crime, AAP reports.
Only 19 venues were issued warnings of the 1,056 inspected by police, and none were issued with infringements.
But 65 people were arrested and 68 charges laid, including assault, resisting arrest, possessing prohibited drugs and malicious damage.
Police found 146 breaches of the Liquor and Gaming Act and issued 37 infringements.
Out of 1,165 random breath checks, 35 people were found to be over the limit.
Updated

Labor MP Stephen Jones and Liberal MP Katie Allen were asked about our report on ABC chair Ita Buttrose's draft letter responding to communications minister Paul Fletcher's complaint about Four Corners.
Allen said it was appropriate for the ABC to be accountable to its shareholders – eg the government – but Jones said every Australian was standing with Buttrose:
The minister who was supposed to be the protector of the ABC has decided instead that he will be the shop steward for every Liberal party sook who does not like what the ABC may write or publish from time to time.

He has sent a scathing letter and published it, rudely. The objective of the letter was to bully the ABC – it was dripping with threat.
Updated

Here is my full report on the Victorian parliament's contact tracing report.
One important point, I think, that has not been given as much focus as it should is the issues the Victorian government had reaching culturally and linguistically diverse communities. Millions in funding has now been provided, but the inquiry heard it was late – not coming until August.
The Victorian government told the inquiry 50% of Covid-19 cases in the state were among people who were born outside of Australia, despite that cohort making up just 30% of the total population.
A total of 29% of cases spoke a language other than English at home which the initial contact tracing system failed to adequately address. The committee reported there were problems with information being translated and a lack of engagement with affected communities.
The report stated:
It is vitally important that Victoria's culturally and linguistically diverse communities have easy access to detailed and up-to-date information about testing and contact tracing delivered in a suitable language or format.
Updated

Rudd is also calling for a boycott of Realestate.com.au for buying or renting homes, saying it is the "principal cash cow" for Rupert Murdoch in Australia.
Rudd told the ABC:
If you are concerned about climate change and if you are fed up with the Murdoch media running a totally hostile agenda towards governments of whichever persuasion, Liberal or Labor, limiting effective action on climate change, then say no to Murdoch's realestate.com.au.
Updated

Former prime minister Kevin Rudd has said the leaking of the news that apparently the Five Eyes nations are considering coordinated retaliatory sanctions against China to be "dumb and dumber" from the Morrison government.
Rudd said:
It is part of the hallmark of the current Morrison government's approach to the China strategy to leak stuff to the papers rather than attend to the business of prosecuting an effective operational strategy for dealing with Beijing.

Go back to what I've been saying some months: the Morrison government in general should talk less and do more, if it's serious about sustaining a relationship with Beijing, despite the difficulties.
Rudd said that by making political pronouncements, the government might appear "hairy-chested" in Australia but just encourages retaliation from China.
He also had not very flattering things to say about the Australian newspaper's report on Chinese Communist party members working in Australia, pointing out there were 92 million members of the party in China:
It stands to reason, therefore, that when people are being employed in institutions around the world, be they by corporations or consulates general, in terms of the local staff, a proportion of those are going to end up being members of the Communist party. The challenge for governments and corporations is to determine whether any individual employees are a security threat.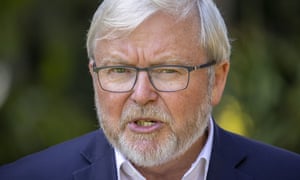 Updated

Agriculture minister David Littleproud told the ABC the expected shortfall in farm labour due to a lack of people coming to Australia on temporary work visas to be up to 26,000 over summer.
He said 22,000 were ready to come here and work, but warned that if states did not put in place plans to get the people here to quarantine, it would lead to higher prices for food.
We have been unable to get health officials excited about the fact and the crisis that we are coming towards. We are now in a juncture where this is going to spread from being a problem in the north, right down to New South Wales, Victoria and into Tasmania.
Updated

The minister for agriculture, drought and emergency management, David Littleproud, has told ABC TV Australia is well prepared for flood events this summer, but that he is very concerned about the heavy rain in northern NSW and southern Queensland.
These types of scenarios are played out well before we get to this part of the year. We are working through scenarios not just for bushfire but for all types of disaster, whether it be flooding or through cyclones.

We are working through that in a coordinated approach, a nationally coordinated mechanism where – although emergency service commissioners work together in understanding what that looks like and, in fact, the federal government itself – we have role-played a scenario with our Emergency Management Australia to make sure that we are pulling the right levers from my department, right through to defence and working through the protocols, the trusted protocols we have put in place over many years in regards to tasking requests from the state through to federal government agencies.
Littleproud says the federal government, the states and local councils all have a role to play in mitigating potential erosion issues on the coastline as part of the disaster reduction framework.
Updated